This will be my second time there, but my first time riding in Baja. I'm heading down with a tour that West38Moto is doing. It's going to be a ride for big bikes, like my Tiger. I'll be riding over to La Mesa, CA from Santa Fe, NM. I'm planning on two days to get there. In total I will be in Baja/Mexico for just over two weeks. I'm pretty excited about it. I just finished buying a new GPS so I can use this trip to figure out how to navigate off it. I'll be needing it when I take a few friends out on the BDRs this summer.
It'll be the first trip for me where I won't be camping along the way. So I'll have to figure out the packing for it. Should be easier, since I won't need the cooking or camping gear. At least not for the Baja part. In Sonora I'll have to camp, but they'll be bringing that gear down for me.
I didn't write up the sections in italics, I took Dusty's (W38M) description of the trip. On the last day of the trip instead of heading up to Tecate with the group, I'll be splitting off from them and riding over to San Luis Rio Colorado to begin the second half of the trip. Were I'll working as pit crew for a couple of Sonora Rally racers.
The Route for the Baja Part: (Roughly)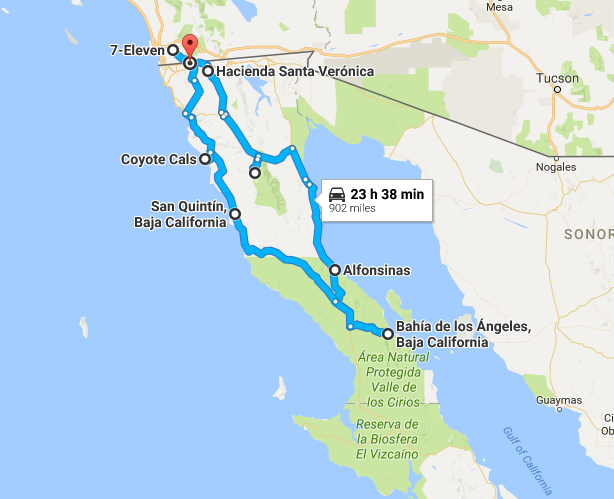 Description:
Day 1 = Spring Valley California to Mike's Sky Ranch
174 Miles
After a night of getting to know each other and preparing for the tour, we will set off as a group and head for the Tecate border. At the border crossing we will take turns as a group getting our tourist visas and exchanging money. A passport is highly suggested for traveling in to Mexico and getting back into the US. Once we finish with this process, we will make our way through Tecate and link up with the Old Compadre Trail. Wide open vistas and mountain dirt roads will lead us back to Hwy 3. We will stay on pavement and top off with gas on our way to the dirt road entering Mike's Sky Ranch. Today will be a mix of pavement and dirt at about 50/50.
Day 2 = Mike's to Alfonsina's
188 Miles
We will depart Mike's the same way we came in and head out on the pavement for Gonzaga Bay and Alfonsina's. We will stop for lunch in San Felipe and find a restaurant on the Malecon (boardwalk by the water). After lunch we will head out on pavement to Alfonsina's. This section will be a mix of improved and unimproved pavement. Watch out for the Vados! Along this section we get exposed to some of the most beautiful scenery on the gulf side! Alfonsina's is located on the beach in Gonzaga Bay!
Day 3 = Alfonsina's to Bay of LA
110 Miles
This day will not be as long for us as some of the others. Today we will make our way out of Alfonsina's where our first stop will be the famous Coco's Corner. Coco is a legend in Baja and his place is visited by thousands of traveler's every year. After a coke or water at his place, we will make our way to the highway and head to the Bay of LA. When we arrive at the Bay of LA we will have a choice of stopping and relaxing for the day, or riding up to the Mission San Francisco de Borja. For those that would like to keep riding we can drop our luggage at the hotel and head out to the Mission. The mission is roughly 35 miles one way from the Bay of LA. Once we turn on our dirt road it's through the mountains again arriving at the gorgeous and historical Mission. You won't want to miss this!
Day 4 = Bay of LA to San Ignacio
207 Miles
This day will be mostly dirt as we wind our way out of the Bay of LA through the coastal gulf mountains and along the gulf coast. We will stop along the way in San Rafael to see old whale skeletons and have a cold drink. From there it is back on the dirt where we leave the coastal mountains and head into the desert. This ride is fantastic and the desert terrain has a harsh beauty that is better experienced than described. Once we hit the pavement we will make our way to the gorgeous and quaint town of San Ignacio.
Day 5 = Tourist day in San Ignacio
221 Miles
Today we will go on a bit of a different tour and add some Baja wildlife to the mix…how about Humpback Whales! If you have never been whale watching get ready for this! We will leave as a group from San Ignacio to the Pacific Ocean side of Baja and enjoy a day of whale watching, food/drinks and a life altering experience!
Day 6 = San Ignacio to Mission Santa Maria
342 Miles
Today will be our longest day but we will get to take it easy on the pavement. However, don't let that fool you. This time of year the desert flowers are bursting and we will get to travel through some of the most beautiful inland mountain, desert and farm towns in all of Northern Baja! Get your cameras ready for some fantastic inland photos! The fun does not stop there…when we get to our hotel, Mission Santa Maria, we will have an opportunity to ride our motorcycles on the beach! If you have never done this it is fantastic! We will eat a gourmet meal at the hotel restaurant and enjoy cocktails in the bar after this long awesome day!
Day 7 = Mission Santa Maria to Coyote Cal's
98 Miles
Today we will be rewarded with a shorter ride as we make our way to Coyote Cal's. When we arrive we will have a choice again of relaxing or taking a ride along the coast. This area of Baja has some of the most beautiful scenery along the Pacific Coast! The terrain can be compared to the Pacific Coast Highway along the California coast between LA and San Francisco. This ride and scenery will not disappoint!
Day 8 = Coyote Cals to San Luis Rio Colorado
192 Miles
On our last day we will make our way out of Coyote Cal's and say goodbye to the dirt roads…and head into Ensenada. After a good lunch there I will make my way over to San Luis Rio Colorado to start my second part of the trip.
http://west38moto.com/boxed/discover/discover-baja-7a/


Route Area for the Sonora Rally:

http://sonorarally.com/details/details2.html
I didn't get to go with them last year for this one, but I'm told it'll be similar to the Baja Rally I did with them in Oct. last year. I'll be driving the truck and trailer again. They are planning on just throwing my Tiger in the bed of one of the trucks one I get to San Luis. It'll stay there likely until we get back to Santa Fe.